Would you like to finally organize that mess that you call a car? Right now you can't find anything that you need, and there's just something that feels clean about a well-organized car. Well, don't you fret. It doesn't take long to get your clean car. Here are 16 tricks that magically organize everything within minutes.
Keep the interior clean with this cheap, lint-free "wipe"
Wipe down your dashboard and other hard surfaces with a coffee filter. Because it's lint-free, it's perfect for dusting.
Clean A/C vents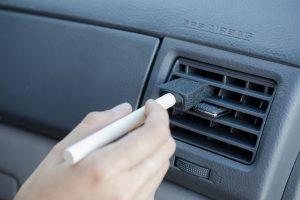 Use a foam craft brush to easily clean in the vents.
Image: Krazy Coupon Lady.
Easier way to scrub off dead bugs
Using a dryer sheet just has the right texture to easily remove dead bugs that accumulate on the front bumper and grille.
Seams of car seats build up grime and dirt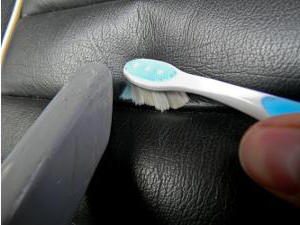 Although this sits right under your rear-end, it's not quite as disgusting as a toilet. But a normal scrubby would be hard to use here. Even a vacuum won't remove grime build up in those seams. Use a tooth brush to scrub in those seams.
Image: Minimania.
Add organized, transparent pockets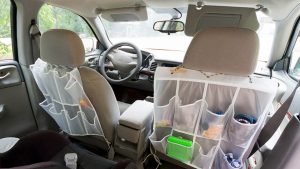 Start by getting a shoe organizer for the back of seats. This is essential if you have kids, but also useful if you just seem to live out of your car at times. The shoe organizer has clear pockets, where you can store everything. Sure, most back seats have their own pockets but the shoe organizer has individual ones. You can keep toys separate and make sure they're visible at a glance! Have spare clothes, diapers and wipes all ready to go!
Image: Life Hack.
Use a shower caddy as a mini toolbox
Your oil, lubricant, tools, and other materials are all essentials. Fed up of them rolling around in the back? It's time to invest in a shower caddy to keep everything organized. You'll also lower the risk of oil spillage to help ensure a clean car!
Keeping coins within reach and organized
That gum tub doesn't need to be thrown in the trash. Keep it in your glove box or coffee cup holder for all the loose change. You'll have the perfect spot for when you need it on the toll roads.
Is your cup-holder getting sticky?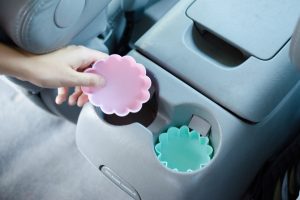 Line your cup holder with reusable cupcake liners so it'll catch spills and crumbs.
Image: Krazy Coupon Lady.
If your bottle or cup keeps spilling over in the cup-holder, do this
When a cup-holder is too big, placing your water bottle in a sock can help keep a tight grip.
2 do-it-yourself air freshener tips
If you have leftover candle wax in a glass container, place it in one of your car's cup-holders. On a hot day, the candle will scent your car.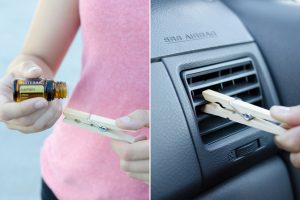 With the essential oil trend, apply several drops to a clothespin. Then, clip the clothespin to an A/C vent.
Image: Krazy Coupon Lady.
Organizing under the passenger seat
Some makeup bags cost around a dollar or two and will easily give you a clean car. They're great for storing paperwork and coloring books. Put it all in and store underneath the passenger seat.
Organizing under back seats that sit higher up
The shoe organizers are great for the back of the chair, but the kids can't always reach what they want. You'll need to get a couple of remote control holders and put them under the kids' seats. Put in their coloring pencils, toys, and everything else they desperately need to stay entertained for long journeys.
Did you know you can create a desk for your car? All you need is a backpack. Slide something solid into the zip compartment and keep it open. Your kids can keep themselves entertained on long journeys and there are pockets at the side to keep things organized.
Keep the tissue box
Like the gum tub, don't throw out the Kleenex box as soon as the tissues are finished. It's great for plastic carrier bags. Stuff them all in and pop under the seat! When you need one, you can grab and go.
Keep a snack organizer
Organize the snacks and keep them in a car with a small tub. These are like pill boxes or tool boxes, and allow you to keep a few of your kids' favorites in the car. You can even add a few of your own.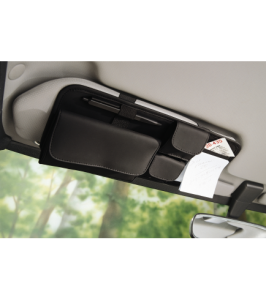 You can get small organizers that will strap over the passenger side visor. These are small pockets for a notebook and your sunglasses—never an excuse when the sun comes out!
Image credit: Ebbrands.
Get a plastic caddy for food
Another trick to a clean car is a plastic caddy specifically for food. This is for your dinner or lunchbox food, so your kids don't have to balance food on their knees!
Get your clean car with these magical organization tricks.